---
Cheapest Domain Registrars and Hosting Providers
---
Websites To Buy Cheap Domain Name and Hosting
Choosing and buying a domain name for your website is the most crucial step in designing your site because that essentially becomes the name and brand of your website. Domain registration is a prerequisite for any enterprise that wants to tap into the immense potential of the worldwide web through a website. You can either buy the domain name from a separate domain name service provider (recommended for those who have their own servers) or directly from your web hosting provider.
Before registering a domain name, it's very important that you first check the salient features of that registrar that distinguish them from a dozen others in the market. This is because the market is flooded with cheap domain registrars and all offer similar services such as web hosting, VPS server hosting, email services, cloud storage among others by default.
At such, choosing the right domain name registrar might not be as easy as it sounds. The best domain name provider should strike a good balance between price and the services offered. In addition to the aforementioned services, they should offer instant 24/7 technical support, security, live chat facility, and affordable pricing and renewal rates. In this article, we will highlight the best and the cheapest domain registrars on the internet today.
---
Top 3 Cheapest Websites to Buy Domain Name and Hosting for Your Startup
iPage (free domain name)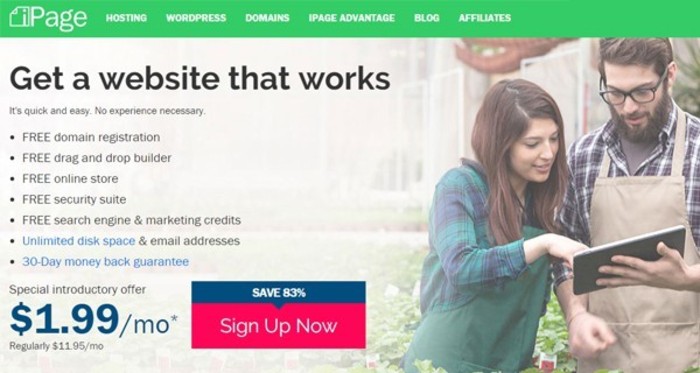 iPage is the low cost domain name Registrar Company on the planet and also offers the most affordable web hosting services for individual and small businesses. less than $2 a month for domain and hosting, iPage will allow you to create your site on the lowest budget. iPage also offers other services such as constant network scanning, daily spam and malware scanning, Free YP (yellow page) listening, Site Analytics, Free toll-free number, SiteLock security, and free credits up to $200 for internet marketing.
The best thing about iPage is that you get a free domain name when you purchase a 1-year web hosting plan for just less than $24. They also claim to have a 99% server uptime for all their hosting plans. Founded in 1998, iPage has powered over 1 million websites to date. In additional to domain and web hosting services, they also provide a 24/7 customer support and a 30-days money back guarantee.
View iPage pricing and hosting plans:- iPage Web Hosting (affilation link)
---
Bigrock
As an ICANN accredited registrar, Bigrock is one of the leading providers of a wide spectrum of domain services. Bigrock provides a complete suite of products that helps individuals, professionals, and small business grow and scale your online presence. Their core competencies include website hosting, domain name registration, VPS hosting, business-class email hosting services, e-commerce solutions, website builder products and more at a very affordable price. They also offer other value added services such as DNS management, WHOIS, and premium domain sales.
As one of the highest rated domain registrars in India, Bigrock offers transparent services with no hidden costs that cater for all your domain related concerns. Whether you want to check for the availability of your preferred domain name, register, or transfer your domain, Bigrock helps you do precisely that, while providing you with premier hosting services that optimize your website's performance. They also offer 24/7 phone support, live chat, and email.
View Bigrock domain name pricing and hosting plans:- Bigrock Web Hosting (affilation link)
Bigrock Blackfriday Promo:
---
GoDaddy
GoDaddy is the juggernauts in domain registration and one of the cheapest domain registration companies in the world. Their domains cost $1.99 per year but there are other costs that push the registration fee to $10 per year. GoDaddy currently powers over 13 million websites and has built a legendary name in the domain registration space due to their cheap pricing and quality services they offer. Established in 1977, GoDaddy is now the world's largest domain Registrar Company with ICANN accreditation. They also have a hosting plan that starts from $4.99 per month.
View GoDaddy domain name pricing and hosting plans:- GoDaddy Web Hosting
---
buy cheap domain
Conclusion
The above mention domain registrars are the best and the lowest in India and across the world. So if you are looking for a great domain registration company that provides quality services at an affordable price, you can choose any one of these companies. Hope you find this information useful, feel free to comment and share.